I have had no serious performances for a couple of months, so I've been turning my attention to recording songs and renovating my studio Bird House Music.
My "office" is currently in the cold basement of an old house, and most of my music equipment is in storage while my studio is painted. Painting started today with the ceiling, and I expect all will be completed by Monday. If the plan goes well, new carpet will be installed next Wednesday. I installed track lighting last month which replaced the harsh fluorescents that burned my retinas for 10 years. My studio should be ready for January 14 when music lessons resume.
I attended an annual winter solstice party hosted by the bass player in my old jazz band The Sean Hully Jazz Group. Being an introvert, I ended up tending the solstice fire alone outside for part of the evening until the party came out to join me. We burned old cedar that represented the old year, and new cedar that represented the new year. Here's my fire.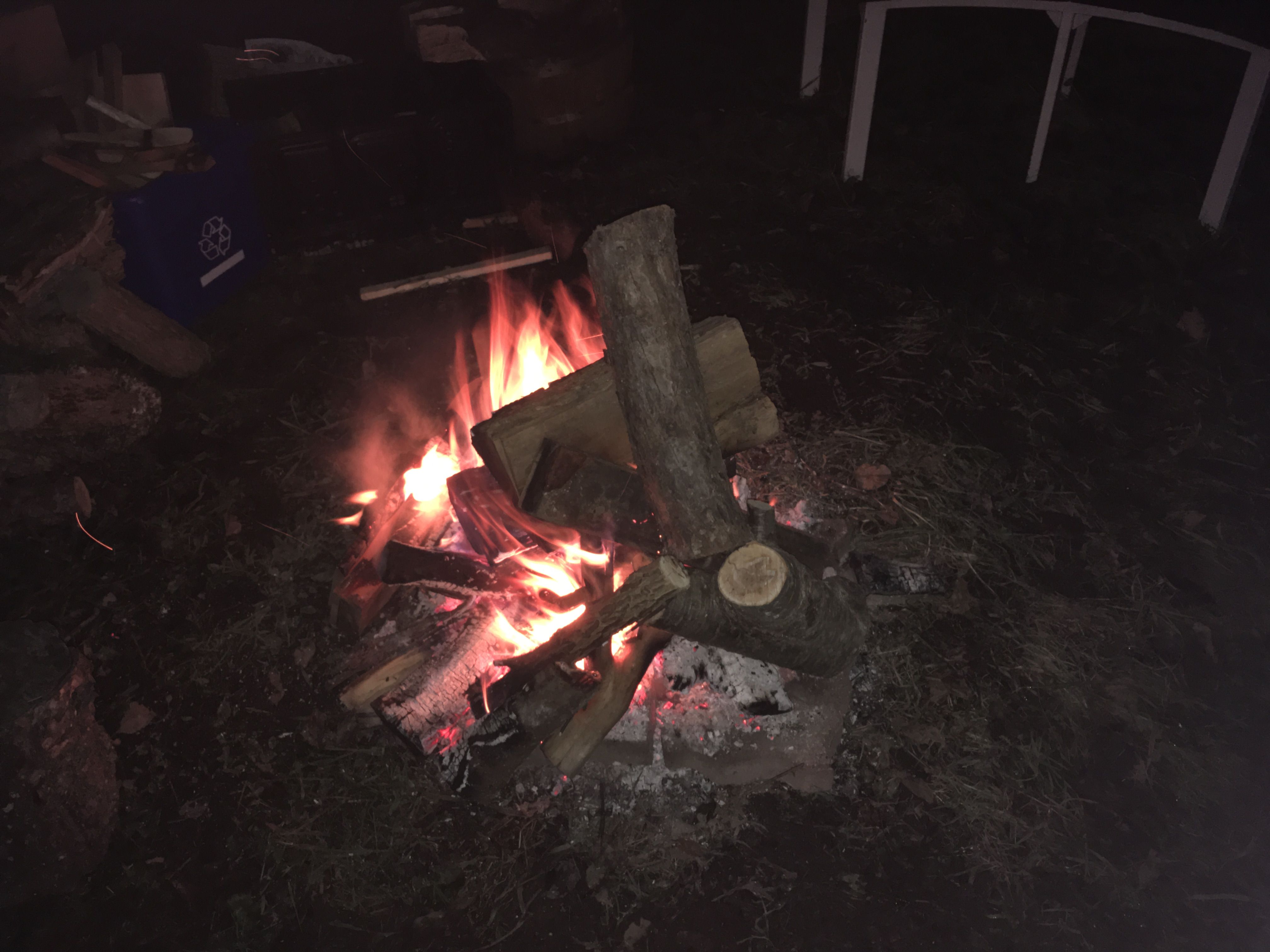 On New Year's Day, I went to a low-key party called "Hair Of The Dog." I hadn't heard of that crazy term before, so I did an online search. "Hair of The Dog" is an English expression meaning a cure for a hangover. That may have been the last fun thing I learned in 2018.
"Hair Of The Dog" was a nice gathering during the late afternoon. I knew only a few people there by only remote acquaintance, including the host. He graciously extended the invitation when we met at a local jazz performance.
During the party, a lady who I just met encouraged me to start a YouTube channel instructing music. I have mused about doing that before (it was in my brain for perhaps five seconds), but I didn't think that I could contribute anything that isn't already out there. She encouraged me further, saying that I spoke well, and that I only have to dive in under a catchy name that reflects what I'm doing. I have an inactive YouTube channel called BirdHouseMusicCanada, so I think I will try posting a couple of video lessons and see what happens. It will be great to make videos in my renovated space too.
Speaking of which, I am hosting a Renovation Reveal Party on January 18 from 5-8. I'll be giving short looping demonstrations too. Here is the Facebook link with all the info. 
Finally, below is a selfie taken after I finished clearing out the studio. The space looks tired, I'm in torn jeans, and my hands are hurting after removing carpet trim. However, I was excited about finally being able to put my mark on this space. When I first rented it, I started working right away because the space was perfect for music lessons. I had just withdrawn from a  Ph.d programme (long story) so I had to get up and running quickly. I have a supportive landlord with a great roster of students each year to keep me afloat. At this time of year, it's important to be thankful for what we have, even though life throws us curve balls every so often. May you hit those curve balls out of the park this year.
Sean